As the official IT provider for golf's original Championship, NTT DATA will bring its award-winning ShotView technology to The Open this year, following its inaugural success at The 150th Open last year, while once again providing fans with an unparalleled data experience

NTT DATA today announced that it will launch its all new digital twin-supported ShotView technology at The 151st Open, taking place at Royal Liverpool from 16-23 July. Following ShotView's reception last year with fans across the world, NTT DATA has further built on its success to provide additional data points, insights and analysis that will break new ground for the Championship.

NTT DATA, which announced its multiyear extension of its sponsorship of golf's original championship, The Open, last year, has celebrated a close partnership with The R&A since 2013. Over the past decade, NTT DATA has delivered cutting-edge technology to elevate the fan experience for golf enthusiasts, culminating this year in the most immersive and engaging experience to date.

Launched at The 150th Open last year, ShotView signified a first for golf in its use of digital twin technology, which enabled fans on the course and at home to gain unprecedented insight into the millions of data points gathered around the course in a live, interactive setting. The technology implementation was recently recognised at The 2023 Sports Technology Awards, which took place in New York as the winner of 'Best Technology for Data and Analytics'.

NTT DATA is once again bringing new developments for golf in a better integrated and more mobile-optimised version of the technology, which will allow fans to dive deeper into data insights and analyse the play like never before. With additional functionality this year including higher quality 3D imagery and a more interactive interface, ShotView will help fans understand the context of the sport and how different players are applying different strategies, providing a head-to-head comparison between players, as well as comparisons with other competitions.

These advanced insights will be accessible via TheOpen.com, as well as once again being viewed by fans onsite at The NTT DATA Wall, an LED event installation over 20 metres wide. The NTT DATA Wall provides a clear view of what's going on at the Championship in real-time, delivering live broadcast from all around the venue, alongside compelling statistics and insightful data visualisations. This year, NTT DATA will also be collaborating with the wider sponsors of The Open to deliver sustainability insights to fans via the installation too. Live updates on water usage and plastic bottles saved, public transport used, and locally sourced food consumed will help fans onsite to understand the carbon footprint of their attendance and make more informed decisions.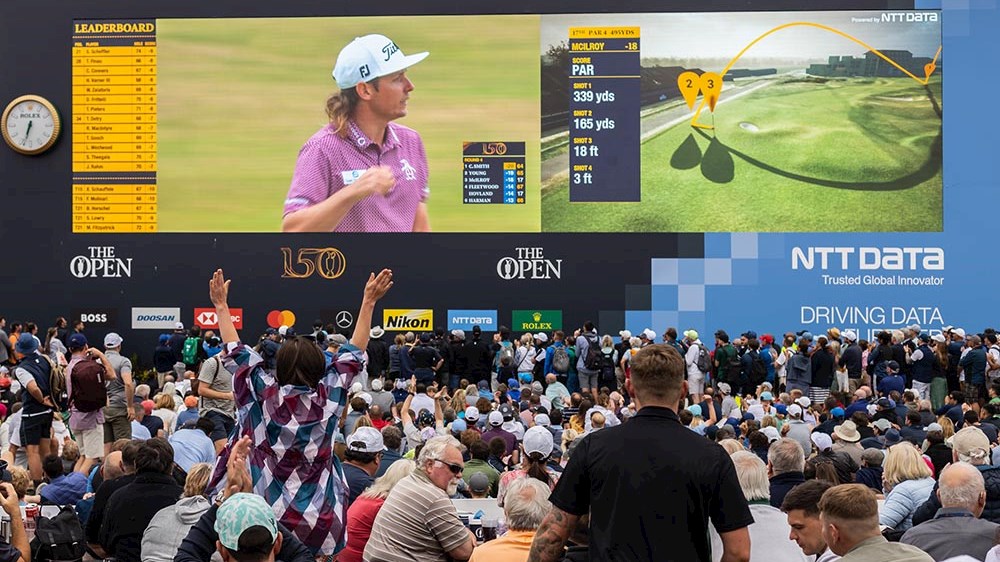 The NTT DATA Wall brings fans closer to the action and the hidden drama behind the numbers.
At this year's Championship, NTT DATA will also showcase its latest AI-powered digital human technology, the 'it.human' platform. Named Lottie – after Charlotte 'Lottie' Dod, the English multi-sport athlete best known as a tennis player who won the Wimbledon Ladies' Singles Championship five times – the digital human will educate and entertain those onsite, providing insights on the tournament, background information on players and the sport, and helping guide visitors around the course. The platform leverages a life-like digital avatar to replicate human movement and sound, using gestures, body language, facial expressions and tone of voice to add a human element to the traditional self-service interface. Combined with multimedia, including audio, video and images, the digital human creates an interactive and engaging offering which combines the best of digital and human interactions and represents the future of customer service across industries.

Paolo Zanotti, CMO, at NTT DATA EMEAL, comments, "AT NTT DATA, we're incredibly proud of the innovations we've executed at The Open over the past decade, bringing together the best technologies from across industries to transform the business of sport. Each year, we've delivered improved insights and analysis, using the global NTT DATA expertise and learnings from digital transformation projects being executed for some of the world's leading organisations. We now provide a level of detail on the sport of golf that we've never seen before.

"With so many variables present in golf, providing fans with deep insights gives them a richer experience and engages them further in the sport they love. This is why we're thrilled to be bringing the deeper statistical insights this year via the revamped ShotView. While we won the prestigious STA award following the launch of ShotView last year, we never rest on our laurels. We've worked to further improve the user experience of the platform, while implementing an updated data collection process for not only more accurate data gathering but increased insights too, bringing a new level of granularity never seen before."

Professor Steve Otto, Chief Technology Officer, The R&A, adds, "Our partnership with NTT DATA has been instrumental in driving innovative change at The Open since 2013. We're passionate about engaging as many people as possible in the sport of golf throughout our portfolio, and NTT DATA's continued digital advancements are helping us to do this, providing fans with better insights and analysis on the sport. We're also looking forward to interacting with 'Lottie' onsite and discussing how this, and related implementations can be used to enhance access to data and insights."